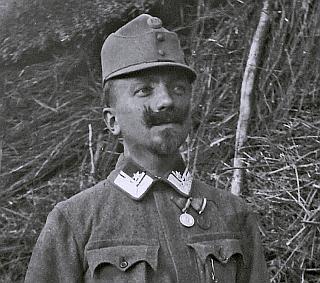 Jan Vaněk was arguably the most obvious of all the prototypes of characters in The Good Soldier Švejk.
This Who's who page on Jaroslav Hašek presents a gallery of persons from real life who to a varying degree are associated with The Good Soldier Švejk and his creator. Several of the characters in the novel are known to be based on real-life people, mostly officers from Infanterieregiment Nr. 91. Some of Hašek's literary figures carry the full names of their model, some are only thinly disguised and some names diverge from that of their "model", but they can be pinpointed by analyzing the circumstances in which they appear.
A handful of "prototypes" are easily recognisable like Rudolf Lukas and Jan Vaněk, others like Zdeněk Matěj Kuděj and Emanuél Michálek are less obvious inspirations. One would also assume that most of these characters borrow traits from more than one person, one such example is Švejk himself.
A far larger number of assumed prototypes are connected to their literary counterparts by little more than the name. Josef Švejk is here the prime example, but Jan Eybl also fits in this category. The list of prototypes only contains those who inspired characters that directly take part in the plot.
Researchers, the so-called Haškologists, are also included on this page but this list is per 15 June 2022 restricted to Radko Pytlík and two important but relatively unknown contributors to our knowledge about Hašek and Švejk. In due course entries on experts like Václav Menger and Zdena Ančík will be added.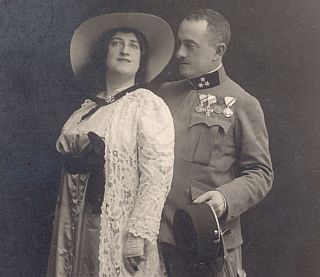 Ihrem lieben Freunde, S. Hochwürden Herrn Feldkurat Eybl, Herzlichst gewidmet, Dr. Robert Dub und Frau Bianca. Im Sommer 1916.
© SOkA Beroun
Robert Dub was an Austrian medical doctor enlisted in k.k. Landwehr who served in the field with Infanterieregiment Nr. 91 from 6 October 1915 to 21 August 1916.
The justification for including Robert Dub on the list of prototypes is that former field chaplain Jan Eybl in interviews around 1965 claimed that Dub repeatedly turned away Jaroslav Hašek when he tried to report sick in 1915. If his statements are true we may have identified the source for at least the surname of Leutnant Dub, a literary figure that researchers never have been able to find an obvious inspiration for.
Army records
Robert Dub was born in Vienna in 1875, with right of domicile in Schwarz-Kosteletz (Kostelec nad Černými lesy), okres Böhmisch Brod (Český Brod), of Jewish confession, 163 cm tall, shoe size 12, black hair, brown eyes etc.
On 1 October 1898 he was enlisted in the army as a one-year volunteer, promoted to Korporal 22 March 1899, and on 19 September to Feldwebel, from 1 January 1900 Reservekadett at IR70 in Peterwardein (Petrovaradin, Novi Sad, Serbia).
On 1 January 1906 he was promoted to Leutnant, while still enlisted in Infanterieregiment Nr. 70. From 1 January 1908 he was transferred to the reserve with k.k. Landwehrinfanterieregiment Nr. 6 in Eger (Cheb), and later to the 12th k.k. Landwehr district (Čáslav).
The World War

Transfer to IR 91 6.10.1915.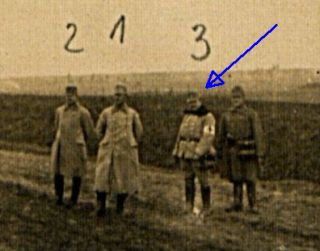 Regimentsarzt Dr. Dub, Oberstleunant Wenzel, Leutnant Gleissner. Wołkowyje, 1.11.1915.
At the outbreak of war Robert Dub was called up and assigned to the newly formed Landsturm-Infanterieregiment Nr. 12, recruited from the Čáslav home guard district. He served in the field with this regiment from 3 August 1914, fighting in Galicia, first as Zugskommandant (squad leader).
On 1 November 1914 he was promoted to Oberleutnant, and he was by then also battalion medic. On 15 June 1915 he was named head doctor at his regiment, and at the same time proposed for a Signum Laudis as reward for his bravery in the field.
From July 1915 his regiment was fighting in the same front sector as IR 91: at Sokal, then from 12 September at Pogorelcy, from 18 September at Chorupan. On 6 October 1915 Robert Dub was officially transferred to IR 91 and was named regimental doctor on 1 November.
With IR 91 he took part in the transfer to the Isonzo front in November 1915, and remained with the regiment until 21 August 1916 (some documents state 23 June) when he was transferred to k.u.k. Reserve-Spital Nr. 3 in Laibach (Ljubljana).
When he war ended he worked at a reserve hospital in Vršovice. Due to his Heimatrecht in Bohemia he was briefly on the books of the Czechoslovak army before being removed from their records in 1920.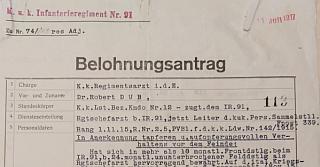 Belohnungsantrag 1917. © ÖStA.
Robert Dub was decorated three times during the war, one of them for his services with IR 91 by the Doberdò plateau during the 4th, 5th and 6th Isonzo battles from November 1915 to July 1916.
His military file also contains brief details from his civilian life. He is for many years listed as ledig (single), and with a steadily increasing income, living in Berlin from 1902. In 1918 his status is married, with address Bamberger Str. 37, Berlin. He seems to have married in a synagogue in the 9th district of Vienna on 30 April 1916. The bride was Miss Bianka Schimpf from Bonn.
Postwar life and a tragic end

Berliner Adreßbuch, 1920
More about Robert Dub appears in the book Jüdische Ärzte als Krankenbehandler: in Berlin zwischen 1938 und 1945 (Rebecca Schwoch, 2018). He was born in Vienna 1 September 1875, son of merchant Marcus Emmanuel Dub. He studied in Berlin, where he was a general practitioner from 1902 until the Nazi regime barred Jews from practising as medical doctors (30 September 1938).

Berliner Adreßbuch, 1940
In the 1940 address book he is listed as Robert Israel Dub, now with the annotation "jüd". In previous address books his name was simply Robert Dub. During the final years of his life he provided medical care for forced labourers. Robert Dub died in Berlin 12 October 1941 and is buried at Friedhof Weißensee. He was married with two children, but the fate of his family under the Nazi regime is not known. It should be noted that the first deportation of Jews from Berlin to the Łódź ghetto started 4 days later, and that many committed suicide in the period leading up to the deportation (Hans-Peter Laqueur). Whether Robert Dub was one of them has not yet been confirmed.
Eybl, Hašek and Dub

Zdeněk Matoušek, Svoboda, 22.5.1966
In the 1960's, with "haškology" increasingly promoted by the Czechoslovak (Communist) authorities, journalists started to take an interest in the elderly Jan Eybl, and several interviews with him appeared in the press. In all of these Robert Dub is mentioned and surprisingly Eybl claims that Hašek knew Dr. Dub and often came to see him to get reported sick.
The reports/interviews were published by Karel Pichlík (1961), Zdeněk Matoušek (1966) and Zdeněk Šťastný (1967, 1972) where the latter's contribution is on the speculative side, even assigning Dub the rank "poručík" (lieutenant). His actual rank in 1915 was however "nadporučík" (senior lieutenant).
The surprise in this respect is that Robert Dub officially was transferred to IR 91 as late as 6 October 1915, two weeks after Jaroslav Hašek was captured! There are several examples in the history of Hašek-research where journalists and scholars alike align their narrative to suit "literary facts" but in this case all three of them mention the Dub-Hašek connection so the source is no doubt Jan Eybl himself and thus can't be out of hand dismissed.
Considering that Dub's and Hašek's respective regiments fought in close vicinity from 15 July to 24 September 1915, the story from the elderly priest may well be true (at least in parts). Leutnant Dub's 12th Landsturm regiment was positioned next to IR 91 at Chorupan. This is confirmed not only by material from military archives but also by the diary of Jan Eybl. It was common that staff of one regiment assisted another, also confirmed by Eybl.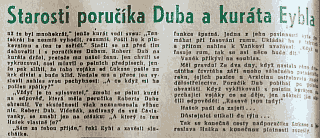 Zdeněk Šťastný, Obrana lidu, 15.1.1972
Otherwise Jan Eybl revealed that Dub was a Jew from Berlin (in another interview he was allegedly from Vienna), with roots in Čáslav, and was married to a Jewish woman, and he was on her initiative transferred to a hospital in Ljubljana. Before the war Dr. Dub ran a prospering medical practice in Berlin. These details are largely confirmed by information from the War Archives of Prague and Vienna.
Jan Eybl's claim that he found Robert Dub a wife and even got them married at first seems strange, but in the Matoušek story it is revealed that he was simply picking a photo of one of eight women Dub was corresponding with at the time.
Eybl's diaries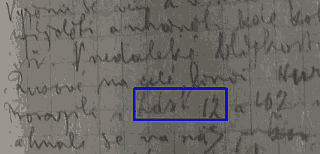 Eybl confirming that the Landsturm-Regiment Nr. 12 operated next to IR 91 by Sokal, 24 September 1915.
© SOkA Beroun

"In the afternoon for a walk with Doctor Dub ..."
© SOkA Beroun
Dub is mentioned many times in Jan Eybl's diaries and it is apparent that the two were in frequent contact due to their duties by the staff of IR 91. In the diary Dub first appears 27 November 1915. That Eybl knew Dub is obvious, and despite some negative comments being made in the diary, they seem to have been friends. Eybl even received a photo of the newly wed Robert Dub and his wife Bianca in the summer of 1916. He kept the photo for the rest of his life and made notes that Dub left for his wedding on 26 April 1916 and was back on 6 May. The last mention of Dub in Eybl's diary is on 13 July 1918 when the two met in Udine.

"Doctor Dub sobbed ...".
© SOkA Beroun
Other revelations in the diary are that Dub once talked nonsense when drunk, and during an Italian artillery barrage he "fled like a little boy". He also kept the field chaplain awake with his incessant snoring. On the positive side he proposed Jan Eybl for a decoration, approved by Oberst Alfred Steinsberg (IR 91 commander).
On 23 January 1916 Dub burst out in tears during Eybl's holy mass, a curious parallel to Feldkurat Katz and Švejk. This incident was also mentioned in one of the interviews in the 1960's, but the reader was not informed that Hašek could not possibly have witnessed it.
Borrowed name
Irrespective of whether Hašek knew doctor Dub or not: like the case is with Feldoberkurat Ibl versus Jan Eybl, Leutnant Dub versus Robert Dub. It is surely not more than a borrowed name. Biographical details and the personal qualities of the abject lieutenant are rather borrowed from Johann Hutzler, Emanuél Michálek, and perhaps other officers the author knew or had heard of (and not least from the author's imagination).
Sources: VÚA, ÖStA, Jan Ev. Eybl, Rebecca Schwoch, Hans-Peter Laqueur
Literature
---
<! -- content -->