"Tornister-Humor" and "The Good Soldier Švejk"
© 2020 Jomar Hønsi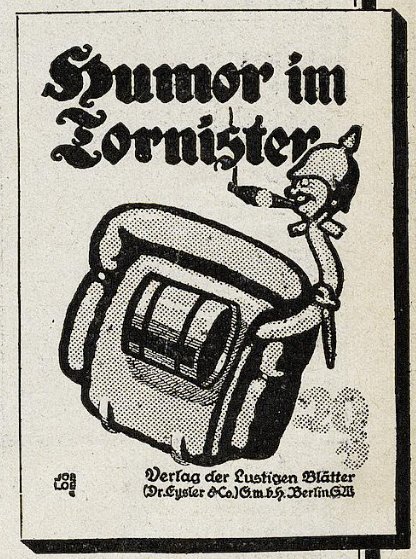 It is well known that Jaroslav Hašek mixed in quotes from various publications when he composed his famous satirical novel The Good Soldier Švejk. The quotes could be from war calendars, encyclopaedia, the Bible and other books, newspapers, and others. His use of these sources was so extensive that no-one yet has the full overview and surely many of the connections are yet to be discovered (and some probably never will be).
Arguably the most convincing research in this field was carried out by Antonín Měšťan through his paper Realien und Pseudorealien in Hašeks "Švejk". It was presented at a Hašek-conference in Bamberg in 1983. The author of the paper touched on many themes, amongst them direct quotes from printed material.
In this paper Měšťan mentions an episode from the 4th and unfinished volume of The Good Soldier Švejk. It regards a scene from the garrison in Przemyśl where general Fink entertains field chaplain Martinec by quoting from a series of brainless humorous booklets published by "Lustige Blätter". The author lists several titles from the series, and in this brief article the aim is to complement Měšťan's findings.
From Realien und Pseudorealien in Hašeks "Švejk" (Antonín Měšťan, 1983)
Diese in der Tat schwachsinnigen Titel könnte man für Erfindungen Hašeks halten, doch es sind Zitate - Hašek hat sich in diesem Fall nichts ausgedacht. Tatsächlich erschien ein Tornister-Humor für Aug und Ohr (19l5), Alfred Brie veröffentlichte 1915 Aus unserer Gulaschkanone, Arthur Lokesch verfaßte ein Wiener Schnitzel aus der k.u.k. Feldküche, aufgewärmt (1916), und Felix Schloemp (und nicht "Schlemper") publizierte Hindenburg-Anekdoten. Unser Hindenburg im Spiegel des Humors... Ein 2. Tornister voll Humor, eingepackt (1915). Hašek erlaubte sich nur einige Ungenauigkeiten beim Zitieren. Möglicherweise besaß er in Lipnice ein Verzeichnis solcher Publikationen in einem alten Militärkalender.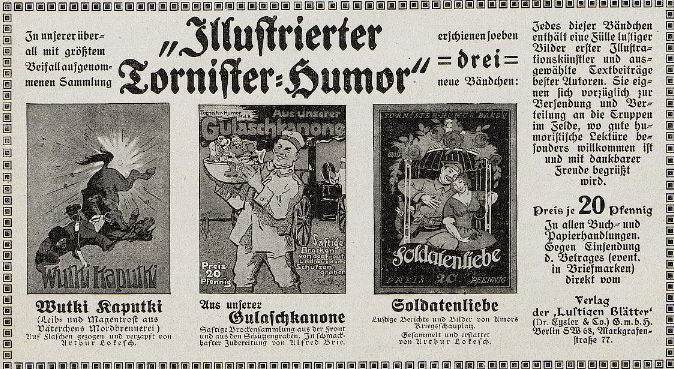 Lustige Blätter and the Tornister-Humor series
"Lustige Blätter" had already since 1886 existed as a satire and humour magazine and also a publishing house. With the outbreak of war the magazine became a vehicle of crude propaganda, vehemently turning it's attention to the enemies of the Central Powers. It also portrayed the positives from it's own side and in this category they from early 1915 started to publish a series of illustrated booklets called "Tornister-Humor". By the end of 1915 sixteen issues had appeared, albeit at irregular intervals. The series continued to appear through the rest of the war.
Tornister-Humor mirrored in Švejk
Hašek almost verbatim used titles, sub-titles and advertising headlines from the series. We must therefore assume that he based the quotes on advertising material, and not on the booklets themselves. The quotes are flawlessly translated from German into Czech, making one suspect that he already had a Czech version of the material at hand when he penned these lines. On the other hand the author made no effort to distinguish between title, sub-titles and advertising text. Two of the contributors to the series: Arthur Lokesch and Felix Schloemp are mentioned. The latter is called "Schlemper" in the novel, a spelling error that goes against the assumption that Hašek had the adverts in front of him when he dictated this passage of the novel late in 1922.
Citation from Švejk
Měl celou knihovnu takových svazečků s pitomými názvy jako "Humor v tornistře pro oči i uši", "Hindenburgovy anekdoty", "Hindenburg v zrcadle humoru", "Druhá tornistra plná humoru, naládovaná Felixem Schlemprem", "Z našeho gulášového kanonu", "Šťavnaté granátové třísky ze zákopů", nebo tyto hovadiny: "Pod dvojitým orlem", "Vídeňský řízek z c. k. polní kuchyně. Ohřál Artur Lokesch". Někdy mu také předzpěvoval ze sbírky veselých vojenských písní "Wir müssen siegen!", přičemž naléval neustále něco ostrého a nutil polního kuráta Martince, aby pil a hulákal s ním.
Adverts for Tornister-Humor in Lustige Blätter
This table only lists the booklets that contains titles or advertising texts that Hašek made directly use of. The first column is the issue number (Bändchen), the second gives the date that an adverts for the issue first appeared in "Lustige Blätter" (and also links to the advert). The rest contains meta-text describing the issue: title, sub-title or advertisement text. Numbers using the notation [n] indicate the corresponding phrases from the Švejk and Tornister-Humor respectively. The dates of the adverts give a rough indication as to when a booklet was first published. Note that issue 8 and 15 had not been published at the time the plot in Švejk presumably took place (June 1915).
Issue
First advertised
Title
Sub-title
Advertising extras
1
20.2.1915
Humor im Tornister
für Aug' und Ohr.
Allerlei Lustiges in Wort und Bild über und für unsere "Feldgrauen".
2
13.3.1915
Hindenburg-Anekdoten
Unser Hindenburg im Spiegel des Humors. Nebst vielen feldgrauen Schnurren aus dem Osten. Ein zweiter Tornister voll Humor. Eingepackt von Felix Schloemp.
3
15.5.1915
Wir müssen siegen!
Lustige Soldatenlieden.
Allerneueste, neueste, neuere, neue, ältere, alte, uralte und urälteste lustige Soldatenlieder mit Bildern und Noten. Gesammelt von Felix Schloemp. Mit Beiträgen von Presber, Falke, Liliencron, Brennen, Hochstetter.
8
4.9.1915
Aus unserer Gulaschkanone
Saftige Brocken-Sammlung aus dem Schützengraben.
In schmackhafter zubereitung von Alfred Brie.
15
8.1.1916
Unter'm Doppeladler.
Unsere k.u.k. Bundesbrüder.
Wiener Schnitzel aus der k.k. Feldküche. Aufgewärmt von Arthur Lokesch.
Thanks to Sergey Soloukh casting a critical look at the draft and suggesting improvements.
Oslo, 10 May 2020, Jomar Hønsi