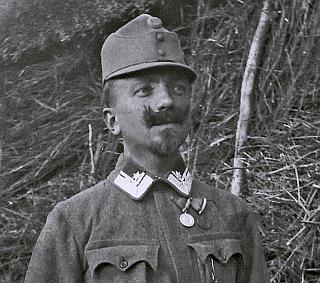 The Who's who page on Jaroslav Hašek presents a gallery of persons from real life who to a varying degree are associated with The Good Soldier Švejk and his creator. Several of the characters in the novel are known to be based on real-life people, mostly officers from Infanterieregiment Nr. 91. Some of Hašek's literary figures carry the full names of their model, some are only thinly disguised and some names diverge from that of their "model", but they can be pinpointed by analyzing the circumstances in which they appear.
A handful of "prototypes" are easily recognisable like Rudolf Lukas and Jan Vaněk, others like Zdeněk Matěj Kuděj and Emanuél Michálek are less obvious inspirations. One would also assume that most of these characters borrow traits from more than one person, one such example is Švejk himself.
A far larger number of assumed prototypes are connected to their literary counterparts by little more than the name. Josef Švejk is here the prime example, but Jan Eybl also fits in this category. The list of prototypes only contains those who inspired characters that directly take part in the plot.
Researchers, the so-called Haškologists, are also included on this page but this list is per 15 June 2022 restricted to Radko Pytlík and two important but relatively unknown contributors to our knowledge about Hašek and Švejk. In due course entries on other experts like Václav Menger and Zdena Ančík will be added.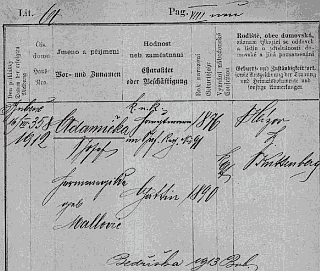 Adamička was no doubt the prototype of Hašek's Adamička. Born in 1876 in Dębica (Galicia, now in Poland), his right of domicile was in Hlízov by Kutná Hora. He graduated from cadet school in Kraków with excellent marks.
Starting with his enrolment in the army in 1896, he served with Infanterieregiment Nr. 24 and Pionierbataillion Nr. 11 at various garrisons in Galicia (Lwów, Przemyśl ao.), until he on 1 November 1904 was transferred to Prague and enlisted in Infanterieregiment Nr. 91. From 22 March 1906 he served with the regiment in Budva, Cattaro (now Kotor), and some other locations in southern Dalmatia where the regiment's detached 1st battalion was stationed. At the time his rank was Oberleutnant.
On 14 March 1910 Josef Adamička married Hermenegilde Mallovič, they were to bear one child. The wedding took place in the parish of Mulla, Bezirk Cattaro, in current Montenegro. From 1 May 1912 he was back in Prague, and from 1913 until 30 April 1914 he was commander of 11. Feldkompanie. This unit was part of III. Feldbataillon that was garrisoned in Karlín. His private address was Bubeneč čp. 913, and by 1915 he had moved to Janovská čp. 979, Holešovice. Otherwise his Evidenzblatt reveals that he was bilingual in Czech and German, and mastered Polish adequately. On 1 November 1911 we was promoted to Hauptmann.
First world war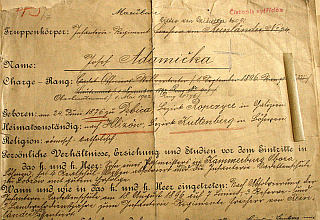 When Austria-Hungary partly mobilised on 26 July 1914, the 2nd and 3rd battalions of Infanterieregiment Nr. 91 were transferred from Prague to Budějovice. Already on 1 August the regiment (apart from the detached 1st battalion) departed for the front against Serbia. They arrived in the area on 4 August and on that date Josef Adamička was again given command of 11. Feldkompanie, actually the very unit that Jaroslav Hašek was to serve in a year later. His stay didn't last long: on 8 September he was wounded by the Drina during the disastrous second attempt to invade Serbia and he spent the period until 4 Desember 1914 in various hospitals. After a short leave he reported at Ersatzbataillon IR. 91 in CB on 4 January 1915.
The same month he was appointed head of the reserve officer's school in Budějovice and here he came into direct contact with Jaroslav Hašek. According to Franta Hofer he liked the author and was very indulgent with his eccentricities and even protected him. Josef Adamička also invited him to the officer's dining rooms to entertain the gentlemen with his anecdotes; the favourite theme were jokes about priests and Jews. On 18 March 1915 Adamička left for the front as commander of the 8th March Btn., and by this time Jaroslav Hašek was already hospitalised. On arrival (26 March) he became commander of the II. Field Btn. which at the time was fighting in the Carpathians.
Einjährigfreiwilliger Marek's assertion that Adamička departed for the front early is therefore authentic: Hašek's XII. Marschbataillon, commanded by Franz Wenzel, only left at the end of June.
Again his stay at the front was brief: a shot in the arm on 20 May 1915 by Kiernica was the last action he saw in the war. After some months in hospital and a period of Urlaub he was assigned to k.u.k Heeresbahn Süd in Belgrade. In 1917 Adamička contracted typhus and died 3 November 1917 at the age of 41, at k.u.k. Reservespital "Brčko" in Belgrade.
Gott strafe England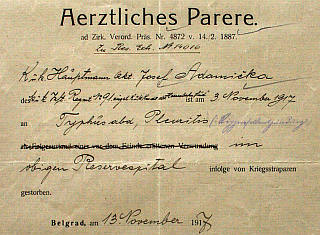 Adamička is the main character in the short-story Gott strafe England by Jaroslav Hašek, first published in Československý voják in Kiev on 15 Oktober 1917. Here he is mercilessly pilloried as a lunatic who promotes the slogan Gott strafe England at every opportunity[a]. In this story Adamička initially has the role as head of the School for one-year volunteers (Einjährig-Freiwilligerschule) in Budějovice, and his Qualifikationsbeschreibung confirms that this was indeed his position at the time when Jaroslav Hašek joined IR. 91.
The story also reveals that he has a brother in the Prague police force. This is also a fact: his brother Ladislav, born 1871, was employed by the police. Hašek's story can of course not fully qualify as a trusted source of information, but at least parts of it appear authentic. Other sequences are however pure invention: he lets Adamička go mad and join Infanterieregiment Nr. 75, and then lets him get captured during the battle by Zborów. Clearly none of this could have been the case because he served in Belgrade at the time of the battle (2 July 1917).
Sources: VÚA, Franta Hofer, Jaroslav Šerák
Literature
---