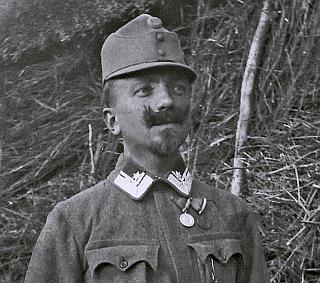 The Who's who page on Jaroslav Hašek presents a gallery of persons from real life who to a varying degree are associated with The Good Soldier Švejk and his creator. Several of the characters in the novel are known to be based on real-life people, mostly officers from Infanterieregiment Nr. 91. Some of Hašek's literary figures carry the full names of their model, some are only thinly disguised and some names diverge from that of their "model", but they can be pinpointed by analyzing the circumstances in which they appear.
A handful of "prototypes" are easily recognisable like Rudolf Lukas and Jan Vaněk, others like Zdeněk Matěj Kuděj and Emanuél Michálek are less obvious inspirations. One would also assume that most of these characters borrow traits from more than one person, one such example is Švejk himself.
A far larger number of assumed prototypes are connected to their literary counterparts by little more than the name. Josef Švejk is here the prime example, but Jan Eybl also fits in this category. The list of prototypes only contains those who inspired characters that directly take part in the plot.
Researchers, the so-called Haškologists, are also included on this page but this list is per 15 June 2022 restricted to Radko Pytlík and two important but relatively unknown contributors to our knowledge about Hašek and Švejk. In due course entries on other experts like Václav Menger and Zdena Ančík will be added.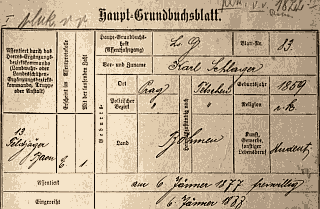 Schlager (christened Mathaeus Carl Julius) is no doubt the main inspiration for the character Oberst Schröder. Schlager was commander of Ersatzbataillon IR. 91 during the entire period Jaroslav Hašek served in the hinterland and Schröder's references to Hungary cement the connection.
The colonel was a Prague German, born at Hradčany (Pohořelec 112/25), son of Ambros and Marie (born Soupková). By 1914 he had a long military career behind him. Having joined the army as a cadet in 1877, he served as an active officer in various parts of the empire: Beroun, Osijek, Pécs, Budapest etc. He spent the time between 1904 and 1911 in Hungary with Infanterieregiment Nr. 52, and revisited the country at the ebb of his military career from 1915 to 1918. Having retired in 1911, he was recalled to active service in August 1914. During the war he served in various functions behind the lines and was finally pensioned in Czechoslovakia on 1 Desember 1918.
Late discovery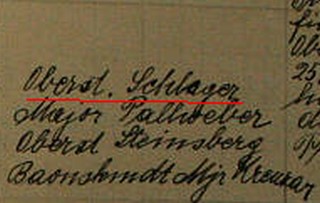 Schlager is arguably the latest of the various real-life models for characters in The Good Soldier Švejk that has been identified. This happened as late as 2014 despite the fact the Hašek already in 1917 had left behind enough information for researchers to trace him. Throughout the history of "švejkology" little has been written about a possible model for Oberst Schröder and he largely remained an enigma. The uncertainty was underpinned by Bohumil Vlček who in 1956 claimed that the commander of Ersatzbataillon IR. 91 in Budějovice and for a short while in Bruck was indeed some Schröder[a]. Vlček describes the officer as a serious elderly gentleman who resumed active service at the beginning of the war after initially having retired. He liked to talk about the old days, about Marschall Radetzky and the campaigns in Italy in the mid nineteenth century. Vlček even describes him as "an otherwise harmless gentleman".
Finding further information on Oberst Schröder however proved difficult. There was never any trace of any Schröder connected to Infanterieregiment Nr. 91; be it in Kriegsarchiv in Vienna, VÚA in Prague or even in Chytilův adresář from 1915. In this address book Jan Splichal is listed as the commander of Ersatzbataillon IR. 91.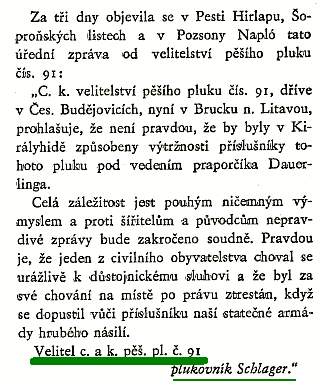 This made one suspect that Vlček got the name wrong, that the commander of the reserve battalion had another name (Vlček wrote his reminiscences much later, in 1956). Radko Pytlík noted that Hašek frequently juggled with names and ranks, and concluded that Oberst Schröder remains a mystery and correctly added that the commander of the replacement battalion in Bruck was Benedikt Pallweber[b]. At the time we could therefore assume that Pallweber was the successor of Hašek's and Vlček's "Schröder".
Documents from VÚA, more precisely the Qualifikationsbeschreibung of Čeněk Sagner, reveal clues to the identity of the mysterious Schröder. Here Sagner's superior during his stay with Ersatzbataillon IR. 91 28 February - 14 June 1915 was explicitly stated as Oberst Schlager, and it seemed very likely that Schlager was indeed the commander of the reserve unit. The same document revealed that Jan Splichal was regimental commander on the Serbian front from 5 November 1914, which effectively ruled him out as a model. He was presumably replaced by Schlager around this time. Nor is it very likely that Jaroslav Hašek would have picked Splichal (obviously a Czech) as a model for his very Austrian colonel. It should also be added that Splichal passed away in March 1915 and would surely not have met the author of The Good Soldier Švejk.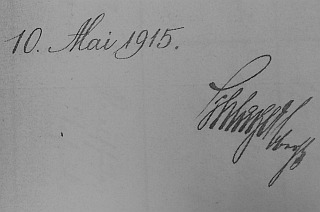 Significantly Hans Bigler in a letter to Dietz Verlag in 1955 refers to Schlager (but he had obviously not noticed Hašek's "renaming" of him). The letter appeared in an article by the renowned Hašek-expert Zdena Ančík in Rudé Pravo in 1955.
To further cement the hypothesis that Schlager was "Schröder", a quick look at Dobrý voják Švejk v zajetí proves fruitful and makes it all appear obvious. In this early version of the Mr. Kakonyi affair, Jaroslav Hašek lets Obrst Schlager, commander of the 91st regiment, sign an official statement, published in three Hungarian newspapers: Velitel c. a k. pěš. pl. č. 91 plukovník Schlager. Note that the author throughout uses the term "regiment" even when referring to the replacement battalion. By now it was clear that the inspiration for Oberst Schröder must have been Oberst Schlager.
Further evidence is a signature on the list of graduates from the reserve officer school in Budějovice that clearly reads Schlager. It was signed on 10 May 1915, and also serves as evidence that the Ersatzbataillon IR. 91 still hadn't been transferred to Királyhida.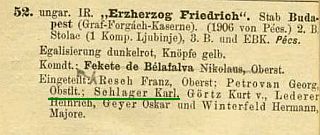 Assuming that Schlager was as elderly officer, a look in the Schematismus from 1908 gave further clues. Here two officers named Schlager are listed, but only one had a higher rank: Oberstleutnant Carl Schlager. At the time he was commander of the replacement battalion of Infanterieregiment Nr. 35 in Budapest[c], and may have been promoted to colonel in between. Was it a co-incidence that Oberst Schröder seemed to know Hungary?
A notice in Bohemia in 1910 reveals that Oberstleutnant Schlager had donated 100 crowns and a number of pictures of the emperor to his former school in Tetschen (now Děčín). Occasion: the emperor's 80th birthday. "Bohemia" also informs that he served in Fünfkirchen, i.e. Pécs in southern Hungary.
Police records, army documents, and newspaper clips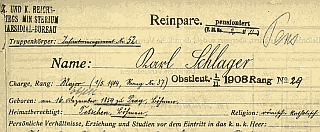 Police registration records from Prague supplemented the information we already had on Schlager. Here he is listed as Oberleutnant in 1911, but in 1912 he has become an Oberst d.R (colonel in the reserve). Born in 1859 in Prague, but Zuständig in Děčín, his age fits Vlček's description well. Schlager was married to Anna (née Unfried), born 1885. In 1912 the couple lived in Mělnická ulice 576/1 in Malá Strana. In 1913 they had already moved on.
In 2014 his Qualifikationsliste was investigated in Vienna's Kriegsarchiv and confirmed the details about his army career up to 1911, but documentation about his re-entry into the army after the outbreak of war was still missing. Amongst many other items the document confirms that Schlager was born in Prague but his right of domicile was in Děčín.

Due to lack of army documents from after 1911 we were left with newspaper items for information about his war-time activities. These could indeed reveal that he was Oberst der Reserve in Infanterieregiment Nr. 91 in 1915, and that he in 1917 was commander of the replacement battalion of Infanterieregiment Nr. 35. Both news items concerned decorations.
Conclusive evidence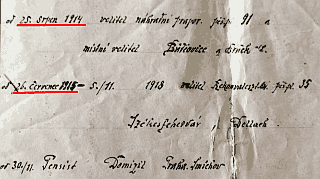 The final jigsaw in the puzzle fell into place in May 2015. Documents at VÚA reveal that Schlager had, as previously expected, served as commander of Ersatzbataillon IR. 91: his term with the regiment was from 25 August 1914 to 26 July 1915. He also served as Platzkommandant in both Budějovice and Bruck during this period.

Schlager was then transferred to Infanterieregiment Nr. 35 in Székesfehérvár where he served as head of the convalescents unit for the rest of the war. On 1 Desember 1918 he was released from the now dissolved k.u.k. Heer and registered as resident of Smíchov in Dvořákova čp. 1245 (now Pecháčkova 1245/8). In January 1920 he was formally recognised as a pensioner of Czechoslovakia. Schlager died in his native Prague on 20 November 1936. His latest registered domicle (1933) was on the abovementioned address in Smíchov.
Sources: Bohumil Vlček, Jaroslav Šerák, VÚA, ÖStA, MNO
Literature
---