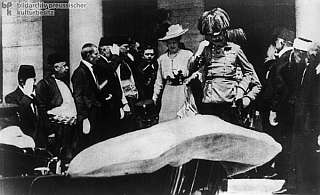 The Good Soldier Švejk is a novel with an unusually rich array of characters. In addition to the many who directly form part of the plot, a large number of fictional and real people (and animals) are mentioned; either through the narrative, Švejk's anecdotes, or indirectly through words and expressions.
This web page contains short write-ups on the people/animals that the novel refers to; from Napoléon in the introduction to Hauptmann Ságner in the last few lines of the unfinished Part Four. The list is sorted in the order of which the names first appear. The chapter headlines are from Zenny Sadlon's recent translation (1999-2008) and will in most cases differ from Cecil Parrott's version from 1973. In January 2021 there were still around twenty entries to be added.
The quotes in Czech are copied from the on-line version of The Good Soldier Švejk: provided by Jaroslav Šerák and contain links to the relevant chapter. The toolbar has links for direct access to Wikipedia, Google maps, Google search, svejkmuseum.cz and the novel on-line.
The names are coloured according to their role in the novel, illustrated by the following examples:
Dr. Grünstein

as a fictional character who is directly involved in the plot.

Fähnrich

Dauerling as a fictional character who is not part of the plot.

Heinrich Heine

as a historical person.
Note that a number of seemingly fictional characters are inspired by living persons. Examples are Oberleutnant Lukáš, Major Wenzl and many others.
Titles and ranks have until 2020 largely been missing on this web page. Senior Lieutenant Lukáš has, for instance, only been known as Lukáš. This weakness is now (24 Desember 2020) slowly being addressed. Military ranks and other titles related to Austrian officialdom will appear in German, and in line with the terms used at the time. This means that Captain Ságner is still referred to as Hauptmann although the term is now obsolete, having been replaced by Kapitän. Civilian titles denoting profession etc. are in general translated into English.
I. In the rear

11. Švejk rides with the field chaplain to serve a field mass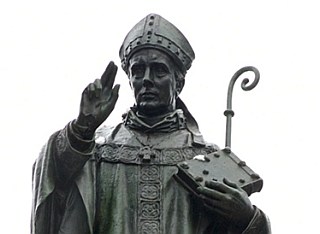 Saint Adalbert is by the author mentioned as a crook who used the cross in one hand and the sword in the other to murder and exterminate the Baltic Slavs. The theme in this context is the institution of Field Mass.
Background
Saint Adalbert was Czech marthyr and saint who spread Christianity in several countries. He suffered death as a martyr in his attempt to converts the Balts and later became a patron saint of Bohemia, Poland, Hungary og Prussia.
Quote(s) from the novel
[I.11.1] Nic se nezměnilo od té doby, kdy loupežník Vojtěch, kterému přezděli "svatý", účinkoval s mečem v jedné a křížem v druhé ruce při vraždění a vyhubení pobaltických Slovanů.
Also written:Svatý Vojěch cz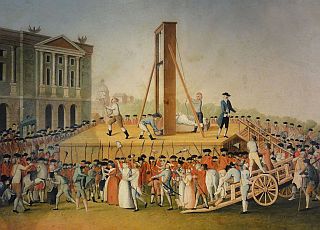 Guillotin (or rather the execution apparatus that carry his name) is mentioned by the author in connection with his description of execution- and field mass rituals.
Background
Guillotin was a French doctor and politician who on 10 Oktober 1789 in the National Assembly proposed a reform of capital punishment; applying the same method regardless of class, that the purpose was to end life quickly rather than torture etc. The result of the proposal was that development of a falling axe apparatus was started. From 1792 it was in regular use and led to a much quicker and less painful execution process, a great progress from the previously barbarous methods.
The guillotine is best known from the French Revolution where many prominent heads rolled. The apparatus was also used in Switzerland, and notoriously in Nazi Germany and occupied territories. In Austria-Hungary the official method of execution was hanging in Würgegalgen.
Quote(s) from the novel
[I.11.1] V Prusku vodil pastor ubožáka pod sekyru, v Rakousku katolický kněz k šibenici, ve Francii pod guilotinu, v Americe kněz na elektrickou stolici, ve Španělsku na židli, kde byl důmyslným způsobem uškrcen, a v Rusku bradatý pop revolucionáře atd.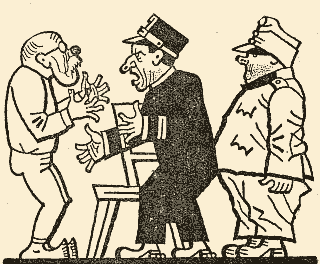 Kolařík was a pious retired teacher from Vršovice who had bought a couch from Feldkurat Katz and had given away the field altar that was hidden inside. He had believed that the altar was a divine gift which obliged him to donate it to the local parish. Katz and Švejk pointed out that the alter was military property and that handling it in such a dubious manner could have grave consequences. See Vršovice kostel.
Quote(s) from the novel
[I.11.2] Ve Vršovicích v bytě pana učitele, starého nábožného pána, čekalo je nemilé překvapení. Naleznuv polní oltář v pohovce, starý pán domníval se, že je to nějaké řízení boží a daroval jej místnímu vršovickému kostelu do sakristie, vyhradiv si na druhé straně skládacího oltáře nápis: "Darováno ku cti a chvále boží p. Kolaříkem, učitelem v. v. Léta Páně 1914." Zastižen jsa ve spodním prádle, jevil velké rozpaky.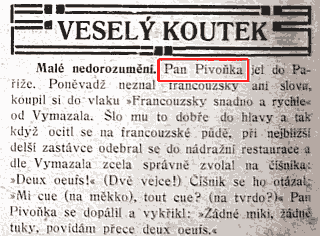 Pivoňka was a man from Chotěboř who had got his hands on state property and subsequently suffered a grim fate. Švejk found it appropriate to relate this fact to the pious teacher Kolařík who had donated the field altar to the local parish. The fear-stricken old man finally grasped the gravity of the situation.
Background
Pivoňka is a name that appears in at least one of the short stories of Jaroslav Hašek. One of them was a Salvation Army captain who visited Pardubice, mentioned in Zápas s Armádou spásy[a]. Inspiration may also stem from the author's visit to Chotěboř in 1912, the outcome of which was the story Zrádce národa v Chotěboři.
Radko Pytlík writes in Data, fakta, dokumenty (2013) that Pivoňka was a secretary at the tax collector's office in Chotěboř. He met Hašek in 1912 and the two visited a number of pubs together. The source of this assertion is however unknown, and Jaroslav Šerák adds that no Pivoňka is registered in the birth and death records of Chotěboř between 1880 and 1929. He may of course have moved here, but that would be a theme for further research.
Svět zvířat
Pivoňka seems to be a name that Hašek employed several times because it appears at least once in Svět zvířat during his period as editor of the magazine. One example is a joke under the header The Merry Corner where some Pivoňka is the butt of the joke[b].
Quote(s) from the novel
[I.11.2] "Na útraty vojenského eráru, to se rozumí," řekl tvrdě a drsně Švejk, "zaplaťpánbůh za takový boží řízení. Nějakej Pivoňka z Chotěboře považoval jednou také za boží řízení, když se mu do rukou připletla ohlávka s cizí krávou."
Sources: Radko Pytlík, Jaroslav Šerák
Literature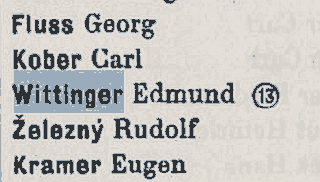 Witinger was a senior lieutenant from Infanterieregiment Nr. 75 who had won the trophy that Feldkurat Katz borrowed for use as a chalice when giving field mass. The trophy was won by the officer years ago when he ran for Sport-Favorit. He was a good runner and boasted that he had run the 40 kilometre Vienna - Mödling stretch in 1 hour 48 minutes.
Background
Witinger is said to have belonged to Infanterieregiment Nr. 75, a unit that was located in Salzburg and Jindřichův Hradec in 1914. It would therefore have been rare to encounter officers from this regiment in Prague at the time. See Oberst Just.
The facts given in the novel with regards to distance and duration of his running are also way off. If Witinger's version was correct his time would have been much better than the current Marathon world record. See Mödling.
Witinger was not a common name in Prague at the time of our soldier, but the almost identical Wittinger was. Any inspiration for the name is therefore likely to be found amongst these.
No traces in k.u.k. Heer
There was no officer named Witinger in k.u.k. Heer in 1914, and only one Wittinger. He was a reserve lieutenant, Edmund Wittinger, enrolled in Traindivision Nr. 4 in Budapest. That this person had anything to do with the figure in the novel is improbabable.
Quote(s) from the novel
[I.11.2] Tak dostaneme sportovní pohár od nadporučíka Witingra od 75. pluku. On kdysi před lety běhal o závod a vyhrál jej za ,Sport-Favorit'. Byl to dobrý běžec. Dělal čtyřicet kilometrů Vídeň-Mödling za 1 hodinu 48 minut, jak se nám vždycky chlubí. Jsem hovado, že všechno odkládám na poslední chvíli. Proč jsem se, trouba, nepodíval do té pohovky."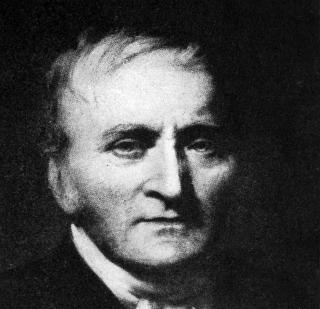 Dalton is mentioned indirectly through the term daltonist (a person who suffers from colour blindness) when Feldkurat Katz's gory field altar is vividly described by the author.
Background
was a distinguished British scientist in physics and chemistry, also known for his research into colour blindness, which he suffered from. Daltonism has even become a byword for it in some languages, notably French and Spanish. It has also become a synonym in many more, amongst them Czech and English. Dalton spent almost his entire life in Manchester.
Quote(s) from the novel
[I.11.2] Oltář skládal se ze tří dílů, opatřených hodně falešným pozlátkem, jako celá sláva církve svaté. Nebylo také možno zjistit bez fantasie, co vlastně představují obrazy namalované na těch třech dílech. Jisto je, že to byl oltář, kterého by mohli stejně používat nějací pohani na Zambezi či šamáni Burjatů i Mongolů. Opatřen řvavými barvami, vypadal zdáli jako barevné tabule určené pro zkoumání daltonistů na železné dráze.
Sources: Wikipedia (en)
Literature
I. In the rear

11. Švejk rides with the field chaplain to serve a field mass
---