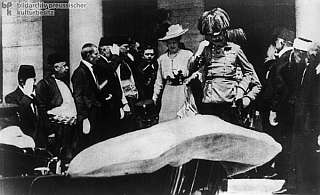 The Good Soldier Švejk is a novel with an unusually rich array of characters. In addition to the many who directly form part of the plot, a large number of fictional and real people (and animals) are mentioned; either through the narrative, Švejk's anecdotes, or indirectly through words and expressions.
This web page contains short write-ups on the people/animals that the novel refers to; from Napoléon in the introduction to Hauptmann Ságner in the last few lines of the unfinished Part Four. The list is sorted in the order of which the names first appear. The chapter headlines are from Zenny Sadlon's recent translation (1999-2008) and will in most cases differ from Cecil Parrott's version from 1973. In January 2021 there were still around twenty entries to be added.
The quotes in Czech are copied from the on-line version of The Good Soldier Švejk: provided by Jaroslav Šerák and contain links to the relevant chapter. The toolbar has links for direct access to Wikipedia, Google maps, Google search, svejkmuseum.cz and the novel on-line.
The names are coloured according to their role in the novel, illustrated by the following examples:
Dr. Grünstein

as a fictional character who is directly involved in the plot.

Fähnrich

Dauerling as a fictional character who is not part of the plot.

Heinrich Heine

as a historical person.
Note that a number of seemingly fictional characters are inspired by living persons. Examples are Oberleutnant Lukáš, Major Wenzl and many others.
Titles and ranks have until 2020 largely been missing on this web page. Senior Lieutenant Lukáš has, for instance, only been known as Lukáš. This weakness is now (24 Desember 2020) slowly being addressed. Military ranks and other titles related to Austrian officialdom will appear in German, and in line with the terms used at the time. This means that Captain Ságner is still referred to as Hauptmann although the term is now obsolete, having been replaced by Kapitän. Civilian titles denoting profession etc. are in general translated into English.
I. In the rear

7. Švejk goes in the military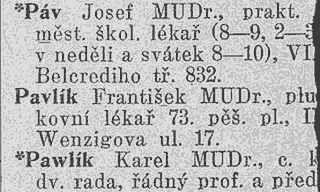 Pávek was a medical doctor from Vinohrady who prescribed Švejk bromium against his rheumatism, belligerance and exaggerated patriotism.
Background
The address book of Prague (1910) does not show up any doktor Pávek. This also goes for the address book of Vinohrady (1912).
The surname Pávek also shows up in the story How Mr. Cetlička voted from 1913, but here there is no question of a doctor.
Quote(s) from the novel
[I.7] A tak byl probuzen obtloustlým pánem, který mu chvíli držel ruku na čele a říkal: "Nebojte se, já jsem doktor Pávek z Vinohrad - ukažte ruku - tenhle teploměr si dejte pod paždí... Tak - ukažte jazyk - ještě víc - držte jazyk - na co zemřel váš pan otec a vaše matka?" A tak v době, kdy Vídeň si přála, aby všichni národové Rakousko-Uherska dávali nejskvělejší příklady věrnosti a oddanosti, předepsal doktor Pávek Švejkovi proti jeho vlasteneckému nadšení brom a doporučoval statečnému a hodnému vojínu Švejkovi, aby nemyslil na vojnu.
Literature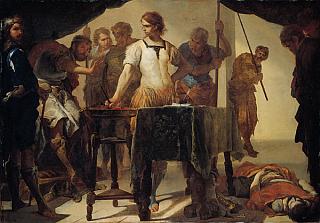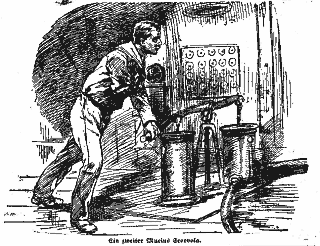 Mucius Scaevola is mentioned in an article in Pražské úřední novinty and compared to Švejk in the news about the incident where Švejk gets pushed off to the draft commission in a wheel-chair. The headline reads: "The patriotism of a cripple".
Background
Mucius Scaevola was a known figure from ancient Rome who through his bravery is supposed to have saved the city during the Ethruschian siege of 508 BC. He was send to the enemy's camp to murder king Porsena but was captured. To show the king how little physical sufferings meant to a Roman soldier he held his hand in the fire without showing any signs of pain. The king released Mucius and offered peace. It has not be established if this story has a factual background but is in any cased based on the writing of Roman historian Titus Livius.
Symbol in stories of war heroism
Mucius and his burnt hand often appears as symbolism in stories about heroic deeds that the press of the Dual Monarchy printed during the war, particularly during the summer of 1915. References can also be found in the Czech press, even before the war. Amongst the papers who printed these stories in 1915 were Neue Freie Presse and Pester Lloyd. One such story appeared in June 1915 and was printed in several newspapers, including Pester Lloyd. It refers to an attack on Italian coastal defences by Porto Corsini on 24 May 1915, led by admiral Miklos Horthy. The admiral is better known as the inter-war and World War II Hungarian dictator who led his country to war as an allied of Nazi Germany.
Reuse of themes
Many themes from the novel have earlier appeared in short stories by Jaroslav Hašek, so also Mucius: Jak se Baluška naučil lhát (How Baluška learned to lie), first printed in Právo lidu, Dělnická besídka, 2 March 1913.
Quote(s) from the novel
[I.7] O celé této události objevil se v "Pražských úředních novinách" tento článek:
[I.7]

Vlastenectví mrzáka

: Včera dopoledne byli chodci na hlavních pražských třídách svědky scény, která krásně mluví o tom, že v této veliké a vážné době i synové našeho národa mohou dáti nejskvělejší příklady věrnosti a oddanosti k trůnu stařičkého mocnáře. Zdá se nám, že se vrátily doby starých Řeků a Římanů, kdy Mucius Scaevola dal se odvésti do boje, nedbaje své upálené ruky.
Literature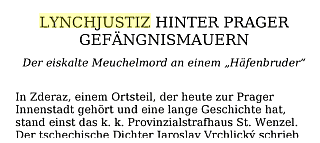 Lynch is mentioned indirectly by the term "lycnhing". It is Prager Tagblatt who report that Czech agents of the Entente tried to lynch the cripple Švejk as he was wheeled to Odvodní komise in a wheelchair. The brave cripple was protected by Germans.
Background
Lynch (Charles or William) are both the probable candidates for the etymological origin of the term "lynching". Both lived in the 18th century, were judges and the circumstance was the American war of independence (1776-1783). In the US the term was later mostly used in connection with abuses directed against blacks. Austrian newspapers used the term "Lynchjustiz" already before 1840, mostly in connection with cases in the US (but not exclusively there).
It has not been possible to find anything in Prager Tagblatt that relates to the quote from the novel and fatal lynching was unusual amongst civilians in Austria-Hungary, even during the war. Arbitrary justice was however widespread at the front. It was used against both the enemy population and own subjects who were suspected of co-operating with the enemy. The victims were mostly Ukrainians and South Slavs.
Quote(s) from the novel
[I.7] Ve stejném smyslu psal i Prager Tagblatt, který končil. svůj článek slovy, že mrzáka dobrovolce vyprovázel zástup Němců, kteří ho svými těly chránili před lynčováním ze strany českých agentů známé Dohody.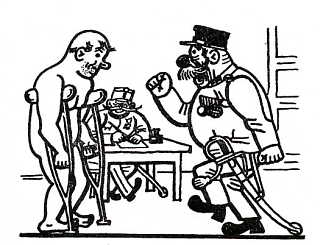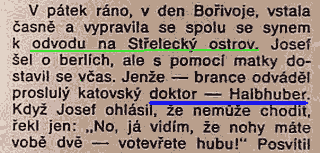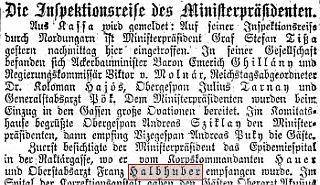 Bautze was head officer at the medical examination board at Střelecký ostrov. He exposed all malingerers in the most efficient and ruthless manner. He is the man behind one of the most famous quotes from Švejk: Das ganze tschechische Volk ist eine Simulantenbande (the whole Czech nation is a pack of malingerers). Švejk suffered the same fate as the other 11,000 malingerers Bautze had smoked out during his ten weeks in service.
Background
Bautze has no obvious model but we know with near certainty that Jaroslav Hašek in mid December 1914 appeared before the Landsturm draft commission at Střelecký ostrov. He would have known who examined him, and might have borrowed traits for his literary figure from this person. Still no dr. Bautze is found in the address books of Prague from the years before the war.
In an article in Květy from 7 September 1968 Jaroslav R. Veselý claimed that some Dr. Halbhuber examined Josef Švejk at Střelecký ostrov, and his claim at first sight seems worth investigating. Dr. Franz Halbhuber was indeed an army doctor and by all accounts extremely cruel to the soldiers who were unlucky enough to get within his reach. He sent hundreds of ill and crippled soldiers back to the front and was also known as a German chauvinist, all this making him very unpopular amongst the Czech population.
There are however many reasons to doubt the veracity of Veselý's account. Halbhuber served in Prague only from late 1916 to 1918. He was "Oberstabsarzt" at Vojenská nemocnice na Karlově náměstí, and before that he had been in the same function in Košice and Litoměřice. That he was involved with the Landsturm draft commission (see Odvodní komise) in 1914 as Veselý claims, is difficult to believe, particularly in view of a news item from Pester Lloyd 24 Oktober 1914 that says Halbhuber at the time, in Košice, was receiving a delegation led by Hungarian prime minister Count Tisza. October 1914 was precisely when Josef Švejk and others who were born in 1892 would have appeared before the commission (Josef was by all accounts to appear on the 20th, that is if the story about him being "superarbitrated" is true at all ...). Some temporary assignment can obviously not be ruled out, but for this to be verified, Halbhuber's military records would need to be consulted.
Still it is quite possible that Halbhuber and other brutal medics may have inspired the author to create the characters Bautze and Doctor Grünstein. Halbhuber had a number of similarities with both of them, for instance treating seriously ill people as malingerers and sending them to the front. In addition he was notoriously infamous so Hašek surely knew about him.
Halbhuber's predecessor as "Oberstabsarzt", MUDr. Jaromír Pečírka, may be the person who examined Hašek at Střelecký ostrov in 1914, or at least led the draft commission. But that he in any way served as model for those very German medics appears improbable. Pečírka was Czech and his obituary contradicts any suggestion that he in any way had anything in common with the two obnoxious doctors that Švejk encountered.
Quote(s) from the novel
[I.7] Zejména ne vrchní vojenský lékař Bautze. Byl to muž neúprosný, který ve všem viděl podvodný pokus uniknout vojně, frontě, kulce a šrapnelům. Známý jest jeho výrok: "Das ganze tschechische Volk ist eine Simulantenbande." Za deset týdnů své činnosti vymýtil z 11.000 civilistů 10.999 simulantů a byl by se dostal na kobylku i tomu jedenáctitisícímu, kdyby nebyla toho šťastného člověka právě v tom okamžiku, když na něho zařval "Kehrt euch!" ranila mrtvice. "Odneste toho simulanta," řekl Bautze, když zjistil, že je muž mrtev.
Literature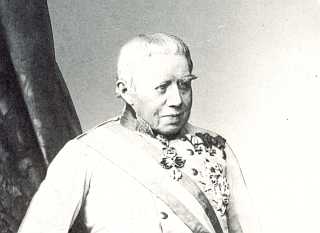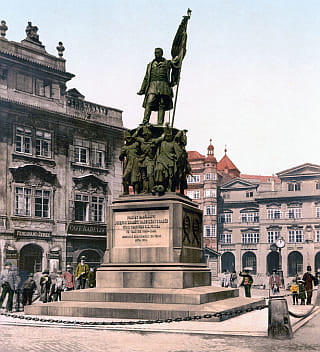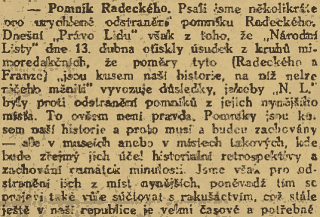 Radetzky is mentioned 13 times in The Good Soldier Švejk.
Radetzky is mentioned when Švejk is led past a statue of him on the way to the garrison prison at Hradčany. Švejk obviously honoured him by saluting.
Radetzky is mentioned several times later in the novel. He appears in the article that deputy Barabás wrote in Pester Lloyd and claims centre stage during the field mass that Feldoberkurat Ibl serves in Királyhida before the march battalion's departure to the front.
The Radetzky march is mentioned directly in [IV.1] Dobromil where the not very sober interrogator/interpreter hums it but adds his own lyrics.
Background
Radetzky was a famous Czech nobleman and Austrian field marshal. He was Austria's most prominent commander in the first half of the 19th century and distinguished himself during the war in Italy in 1848/49 where his armies emerged victorious in the battles of Custoza, Santa Lucia and Novara. He served in Austria's army for 72 years, under five emperors, participated in 17 field operations, and was decorated 146 times.
In 1848 Johann Strauss the Elder composed the famous Radetzky march which even today is played at the end of the Vienna New Year Concerts.
The statue
The statue that is mentioned in the novel stood at Malostranské náměstí in and was removed in 1919. It is now stored in the Lapidárium in Holešovice, a subsidiary of the National Museum.
Quote(s) from the novel
[I.7] Bajonety svítily v záři slunce a na Malé Straně obrátil se Švejk před pomníkem Radeckého k zástupu, který je vyprovázel: "Na Bělehrad! Na Bělehrad!" A maršálek Radecký snivě se díval ze svého pomníku za vzdalujícím se dobrým vojákem Švejkem s rekrutskou kytkou na kabátě, kulhajícím na starých berlích, zatímco sděloval nějaký vážný pán lidem kolem, že vedou desentéra.
[II.4] ... o čemž svědčí celá řada vynikajících českých vojevůdců, z nichž vzpomínáme slavné postavy maršálka Radeckého a jiných obranců rakousko-uherského mocnářství.
Also written:Radecký cz
Literature
I. In the rear

7. Švejk goes in the military
---